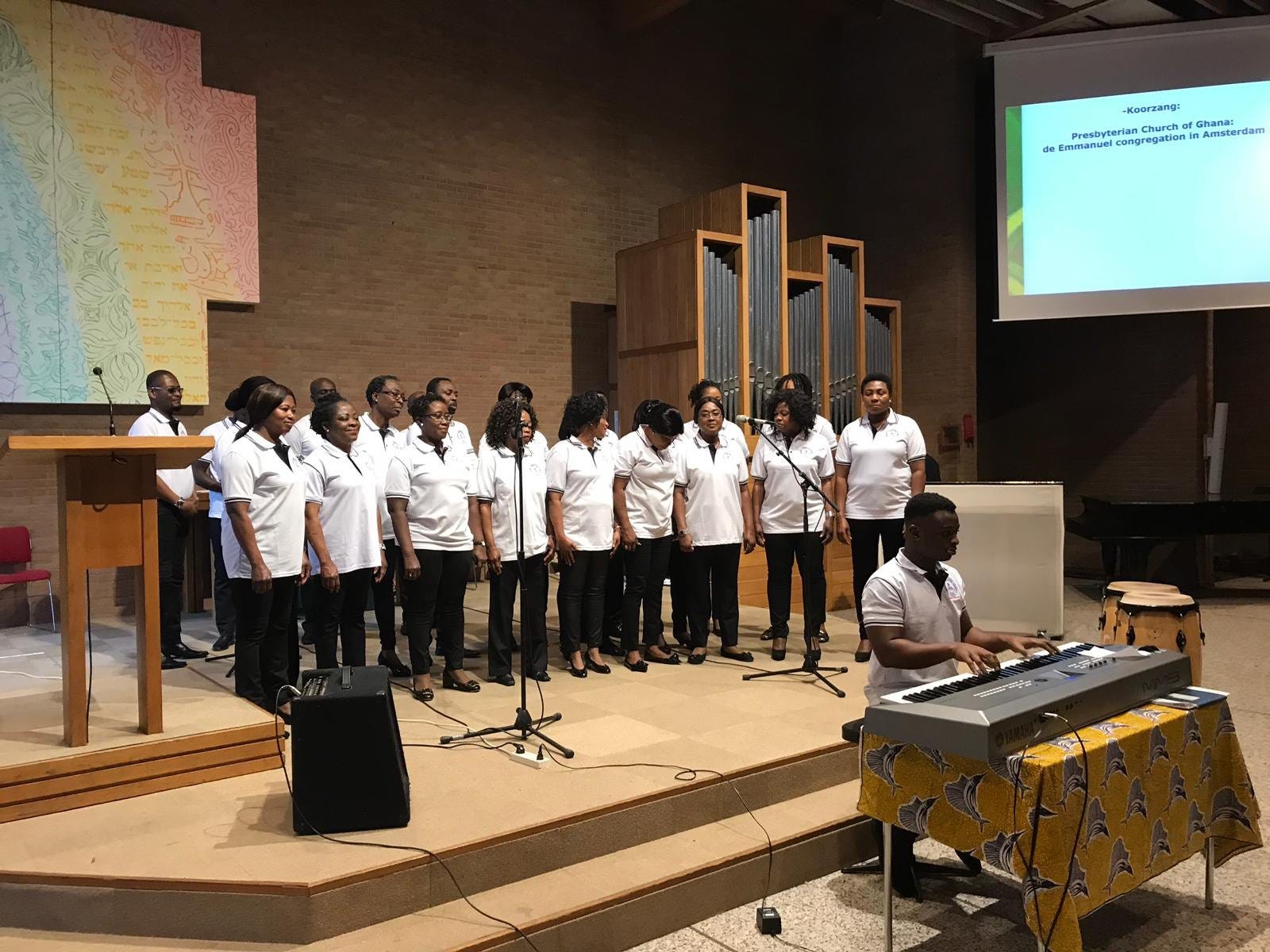 Welcome to Ghachodam!
We promote Ghanaian choral music in the Netherlands!

Every year we organize one or more concerts.
Our next show is on 12 October 2019: a Ghanaian Choral Music Festival
Venue: CEC, Bijlmerdreef 1289, Amsterdam
Tickets: € 5 / Reservations: ghachodam@gmail.com
OUR team
This picture shows our team after "An evening with James Varrick Armaah" in 2018:
From left to right: Michael Mensah (All Saints Choir), William Kwame Gyasi (choir master SDA Youth Choir), James Varrick Armaah (Ghanaian composer, in blue), Kofi Marten (pianist/organist), John Kobina Nkaebi (Chairman of Ghachodam Foundation), Eric Osei Bonsu (choir master Presbyterian Choir), John Boateng (All Saints Choir), Ernest Osafo (organist Methodist Choir) and Tony Mensah (choir master All Saints Choir).
Our story
In August 2018, Dutch pianist/organist Kofi Marten hosted the renowned Ghanaian composer James Varrick Armaah in Amsterdam for "An evening with James Varrick Armaah". 5 different Ghanaian choirs from Amsterdam cooperated to make this a very successful event in the presence of representatives from the Ghanaian Embassy in The Hague and the Dutch embassy in Accra, Ghana. The choirs and their choir masters are motivated to give more such concerts in the future. For that purpose, Ghachodam Foundation (Stichting Ghachodam) was instituted in December 2018. We are now preparing our next show, on 12 October 2019 in the Cultureel Educatief Centrum (CEC), Bijlmerdreef 1289, Amsterdam. Are you interested? Please come and enjoy this concert!
Our mission
We want to strengthen the Ghanaian cultural tradition in the Netherlands by promoting Ghanaian choral music.
Our board consists of the choir masters of five different Ghanaian choirs in Amsterdam and "Kofi Marten", a Dutch pianist/organist with a special interest in Ghanaian choral music.
We work together to make Ghanaian choral music known to a wider audience.
GALLERY
Would you like know more about us?
Please visit our gallery to view pictures of our choirs and events we have been hosting!